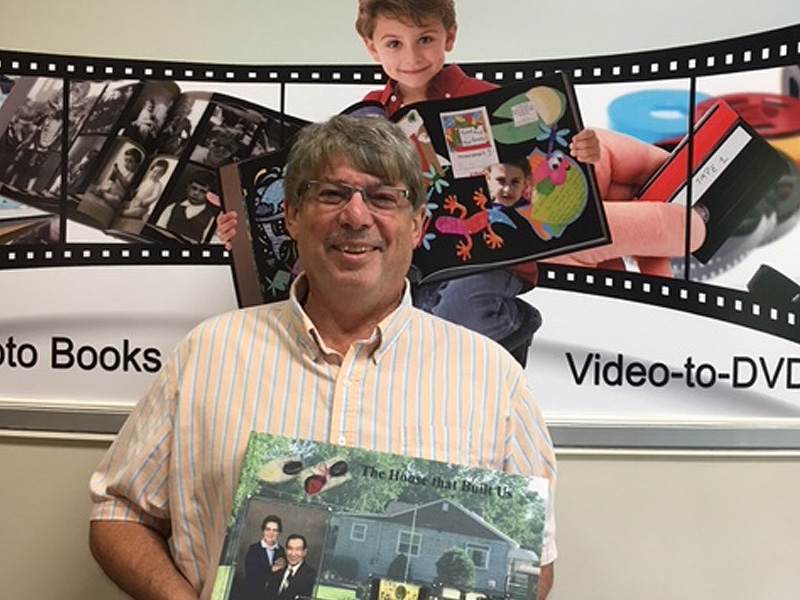 We asked one of our customers, Mr. Ondo, to tell us about his experience with Life's Sweet. Learn how Mr. Ondo wanted to preserve the legacy of his family for himself, his brother, and young children in the family. Here is a transcript of our conversation.
Can you tell me the story behind what prompted you to create a legacy book of your family history?
I saw a segment about Life's Sweet on Channel 9 News one morning in 2008 while getting ready for work. I wrote down the website so I could investigate the company when I had a little more time. Finally, a couple of weeks later, I typed in the URL, clicked through the web site that I had written down and thought this is something I would like to do. I printed off the 1st two pages of the web site and set them aside. Well, they eventually got lost in the paper shuffle and resurfaced eight years later once I retired. I checked to make sure they were still in business and found they were but they had moved to another location. Now that I was retired and had some time on my hands I made the decision to create a book all about my brother for his 64th birthday. One thing I must stress is to not put this off as long as I did. Act now and make a gift your family always remembers.
What was the most surprising thing you discovered while sifting through your family photos and keepsakes?
I went through hundreds and hundreds of photographs that had been boxed up through the years and retrieved all pictures that pertained to my brother. I couldn't believe all of the memories that flooded my mind as I gathered and set aside his pictures. As I was doing this it came to mind that I needed to create a book about our parents and grandparents too. This was going to be project two, but first I needed to make my brother's book. I needed to make, as I call it, "The gift of all gifts."
The next project was about my grandparents and parents. This two volume set left my brother speechless. This type of project will bring families closer together.
I personally thought the medals your father received serving in the war was interesting, can you tell us what you did after finding them?
My parents never talked about World War II. The only thing us kids knew was my dad was wounded in Italy and my mother was a welder building ships. She was an official Rosie the Riveter. Once both of our parents passed it was decided that I take my dad's metals and ribbons seeing how I had spent five years in the military. I decided to see what the ribbons meant. One was a Presidential Unit Citation. The Presidential Unit Citation may be awarded to units of the Armed Forces of the United States for extraordinary heroism in action. The degree of heroism is the same as that which would warrant the award of a Distinguished Service Cross to an individual. This is just my thoughts but I believe this is where my dad was wounded in the leg and for this he was also awarded The Purple Heart. I just wish he were alive so I could talk in greater lengths with him about these medals.
Who do you plan on sharing these books with?
My brother has a son and a daughter and I eventually wanted both of them to end up with a copy once myself and my brother had passed away. So, I had two books made. One was for me to enjoy while I am still alive and one for my brother. Eventually both of his kids will enjoy the books to share with their kids and grandkids. So far I have had Life's Sweet make three books and had two copies of each printed. I am currently working on a book for myself and my wife to add to this remarkable collection.
What were your thoughts when you received your very first legacy book from us?
I have to say I was a little misty. It was so much more than I could have imagined. It truly was the gift of all gifts. I delivered my brother's book to him in person and watched as he slowly read through the book and slowly turned the pages. This took about one half hour. As he closed the back cover he just sat there, stunned, looking at the back of the book. He said, "I could hug you right now but I can't." Why I said. He said "Because I will cry." We stood up, hugged, and cried a little. My mission was accomplished. It really was the GIFT OF GIFTS.
How would you describe your experience working with Life's Sweet?
All of the people at Life's Sweet truly want to make the best book you will ever see. Once you sit down with them to go over your project you will know you have arrived at the only place that can and will turn your memories and pictures into a work of art that will leave you speechless. Everyone I've worked with is so special. Like I said earlier, project two was going to be about my grandparents and parents. This project became a two volume set. Again I made two copies of each book to pass on to the future generations and I don't regret a single moment.
Do you have any feedback you would like to share with us?
Once you receive your book and turn the pages you will find new memories flooding your mind every time you look at it. Don't put it off for as long as I did. Just start with the first picture, then the next and the next. Your mind will put this remarkable gift together and Life's Sweet will make it even more remarkable than you can imagine. What kind of price can you put on all of your memories that will be passed down through time and future generations? You be the one to give The Gift of Gifts. You may not know where to start, neither did I? My advice is to clear the biggest table in the house and put down the 1st picture, then the 2nd and so forth. Rearrange them as many times as you need to. You too can make the Gift of Gifts. The key is to just start the process. You will not regret it. Writing little stories to go with the pictures can get everyone involved with the project. Interview those that are still alive and get their thoughts and memories as well. Just make it happen.