Soraya Cartwright is CEO and Founder of Life's Sweet, Inc.  Established in 2005 and serving customers nationwide, Life's Sweet is dedicated to preserving photo and video memories. Driven by Soraya's entrepreneurial spirit and her leadership skill, Life's Sweet has developed a broad customer base and has won numerous awards.
The idea for Life's Sweet was triggered by experiences in Soraya's personal life. She loved spending time with her son, who was born in 2001. Determined to remember both the everyday and special moments of his childhood, she found herself taking hundreds of pictures, as well as keeping notes and mementos. She wanted easy access to his well-documented life, but as a busy executive, she didn't have time to organize the photos and other memories into albums or scrapbooks. She was surprised to find that in a world where professionals perform many of our daily chores—from dry cleaning our clothes to making our favorite lattes—there were virtually no companies that organized and produced photo books.
Soraya created a business to solve this problem for herself and so many others like her, opening Life's Sweet in July, 2005 in Colorado.
Prior to opening Life's Sweet, Soraya was the Executive Vice President of EchoStar/Dish Network, where she lead an organization of over 8,000 employees, including Marketing, Programming, Direct Sales, Customer Service Operations and Human Resources/Training and Development. Soraya was an integral part of EchoStar's dramatic growth during her 10-year tenure and drove the success of winning multiple J.D. Powers awards for service excellence. Prior to her work with EchoStar, she held positions in wholesale retail operations as well as corporate Training and Development and Organizational Development with PACE Wholesale Membership, where she managed major organizational initiatives to drive employee performance and customer satisfaction. Soraya Cartwright graduated from the University of Colorado in Denver with B.S. degree in Chemistry.
Soraya lives in Colorado with her husband and her family. She has served on the board of the Denver/Boulder Better Business Bureau Foundation for nine years. Soraya continues to be involved with BBB Student of Integrity Scholarship. Additionally, she is serving on the Be Beautiful, Be Yourself Committee for the Global Down Syndrome Foundation.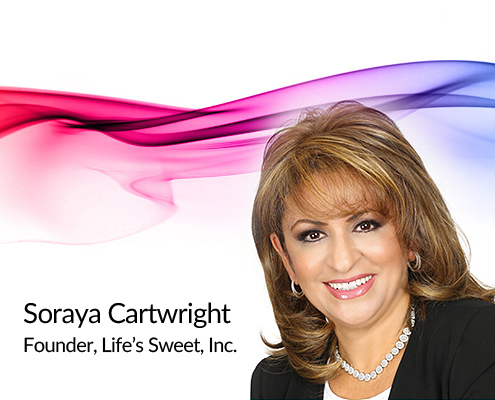 Soraya was recently featured in the Cherry Hills Village Living magazine!
Check out the exclusive interview here!
In this interview, Soraya touches on her inspiration behind creating Life's Sweet, and how we are successfully competing with much larger companies like Shutterfly and Snapfish.